Art of Saving Money
I can still remember the first time I got my salary. My goal was to spend everything on the things I wanted. Saving money was not my priority when it comes to the money I earn. Until 10 years after, I read the book Pera mo palaguin mo by Francisco Colayco. It was an eye-opener, it changed my perspective on how to manage personal finances.
The book tackles different strategies on how to achieve financial freedom. For this blog, I will only share the very 1st step to achieve this goal - Saving Money.
"It does not matter how big or small your salary is,
what matters is how much you are saving."
Most people will have the following formula (per month):
Earnings - Expense = Savings
    100%    100%      0%

Wherein a lot of people end up with no savings at all.
Best Formula (per month)
Earnings - Expense = Savings
    100%    100%      0%

Best to treat that 20% of your monthly earnings as "dead money". This means that every payday, that 20% should always be set aside. No matter what happens, these savings should not be spent unless in case of emergencies (Wait for the next blog on how to handle this problem).
The Motivation
I recently followed Dear Alyne on facebook. One of her vlogs has the title of "The 365 method" In this video, she explained the Power of 365, I was amazed because I also have that kind of strategy when it comes to spending.
The principle is that when you want to buy something you don't need, you compute the actual cost for the entire year (365 days). For example, you always crave Starbucks coffee which is around P180. If every week you will satisfy those cravings, in a year you will spend around P9000. This idea motivated me when it comes to saving money. As others say It's not your salary that makes you rich, it's your spending habits.
Saving every month leads to long-term wealth creation and can achieve the goal of financial freedom.
8th Wonder of the World
Compound interest is the 8th wonder of the world.
He who understands it, earns it; he who doesn't, pays it."
Here's an example of how much you can earn through compounding interest:
| | |
| --- | --- |
| Monthly Net Salary | P12,000 |
| Monthly Savings | P2,400 |
| Annual Interest Rate | 2.0% |
| Years | 20 |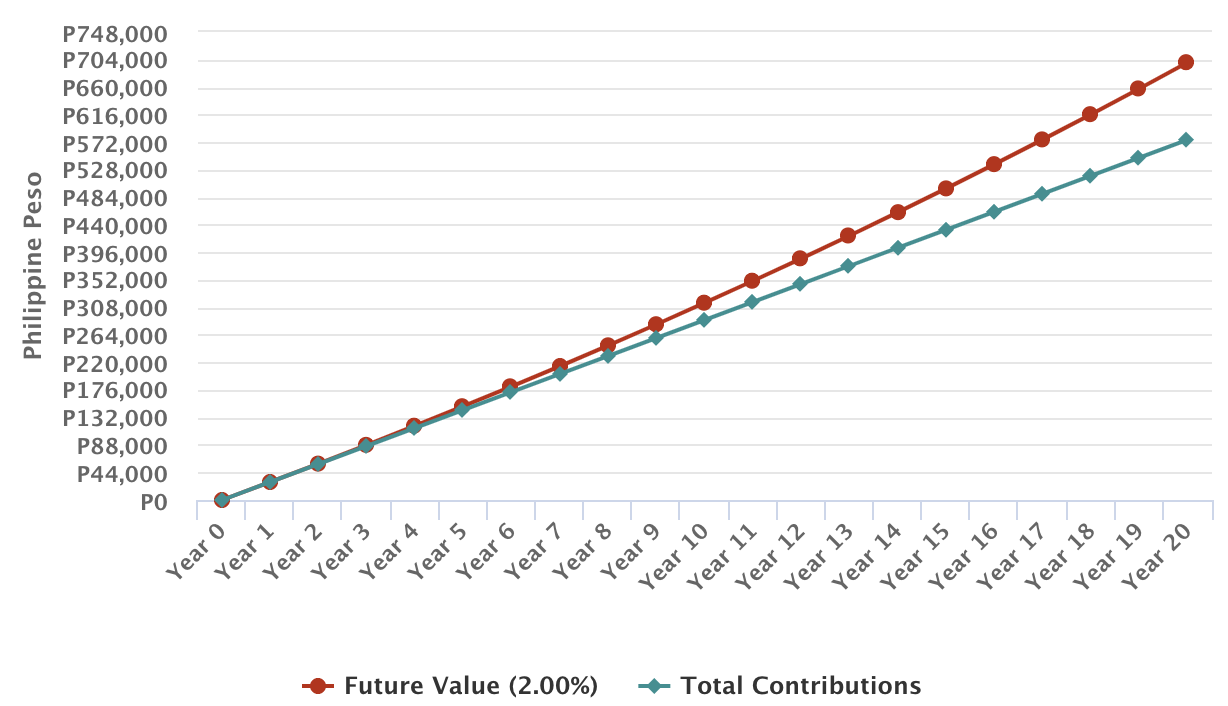 This example shows fixed monthly salary, just imagine if you are able to increase your salary every year.
The best time to save was the time you got your first job, the next best time is?
.
.
.
.
.
.
.
.
.
.
.
.
.
.
.
.
.
.
.
.
.
NOW...